Stimulator for optogenetics
model: STOmk-2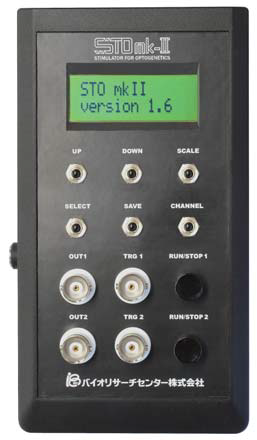 Specification
| | |
| --- | --- |
| Stim Channel | 2ch (Independent) |
| Trigger In | 2ch (Independent) |
| Parameter | |
| Delay | 100μs - 9990s |
| Width | 100μs - 9990s |
| Interval | 100μs - 9990s |
| Pulse number | 1 - 999 |
| Repeat interval | 100μs - 9990s |
| Repeat number | 1 - 999 |
| Amplitude | 0.0 - 5.0V |
| Memory | Yes |
| Endless Repeat | Yes |
| Power | DC5V |
---
STO mk-II is a pulse generator developed for optogenetics.
By connecting the STO mk-II to TRG port on the Teleopto Remote Controller via a trigger cable, you can control the timing of light stimulation by TTL pulses. Pulses are defined by the parameters illustrated below.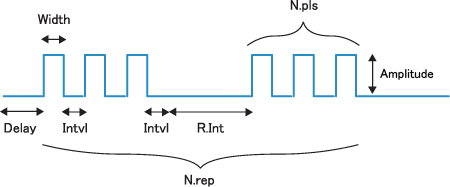 ---
---
model: LPM-100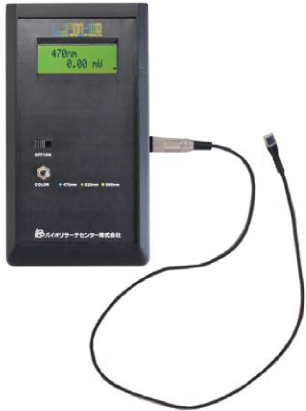 Specification
Wavelength
470nm (blue)
590nm (Yellow)
525nm (green)
Display
Liquid crystal
Resolution
0.01mW
Power
2x AA batteries
---
In optogenetics, it is important to measure the light power at the tip of optic fiber cannula, and the LPM-100 is best suited for this purpose. LPM-100 covers three colors, blue, green and yellow which are commonly used in optogenetics. Easy to use, mobilable by the battery-powered design.
---
---
model:TeleHub6
---
By connecting the TeleHub6 to the EXT port on the Teleopto Remote controller, you can use up to 6 infrared emitters at the same time so that you can increase the throughput of your experiment. This device is also useful if you use a maze with many branches or high walls which block infrared signal and prevent a good transmission. By putting several infrared emitters at several positions, it ensures more stable light stimulation.


Note: All infrared emitters send a signal at the same timing.
---

---