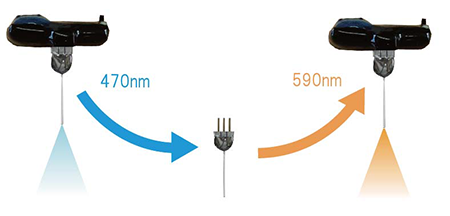 High brightness LED and optic fiber cannula are coupled to achieve mW order light power at the tip. Colors can be changed just by swapping the LED cannula component.
---
Receiver has two types, pulse and continuous, each for high frequency and continuous stimulation. The remote controller is compatible for both receivers, by switching the mode switch. Pulse receiver flashes at the same timing with trigger pulses, whereas continuous receiver alternates on and off upon a new pulse.

---

Remote controller accepts trigger signals from a stimulator, and sends the signals to the receiver. Synchronized light pulses are generated from the tip of the LED cannula (in pulse mode).
---
Some opsins are activated by blue light and inactivated by yellow light. Together with the 2 channel receiver and two colors LED cannula, you can stimulate by two different colors at the same position. The remote controller accepts two independent triggers.

---

Receiver can be charged and re-used repeatedly, by a dedicated charger.
---